MySQL Installation & Workbench Tutorial
---
In this tutorial, you will learn how to install MySQL on your system.
MySQL Installation Method:
1. By installing any of these server on your system:
XAMPP (Cross Platform, Apache, MariaDB(MySQL), PHP & Perl)
WAMP (Window, Apache, MySQL, PHP)
MAMP (Mac, Apache, MySQL, PHP)
When you install any of the above software, MySQL automatically installed. And a PhpMyadmin a web software will be installed along with it. In PhpMyadmin, you can practice mysql commands and queries.
Suppose you have installed XAMPP on your window system. Then please open XAMPP control panel from either from installed file or shortcut of this software if you have created.
It will look like: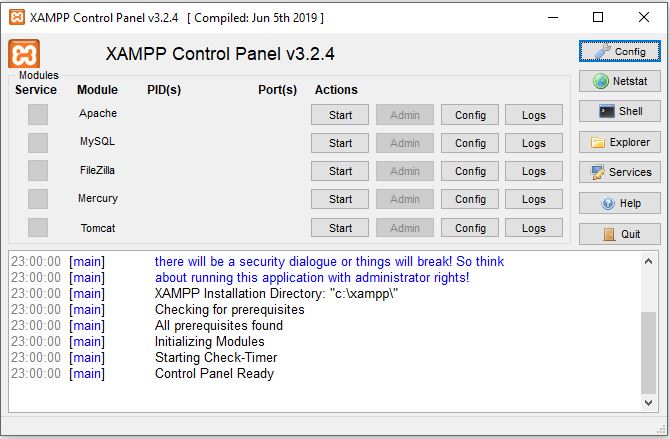 Here, You have to start Apache and MySQL from Actions button – Start
You have to wait until the Apache and MySQL background color becomes green. Otherwise it will not work.
Now if you to the browser and search "localhost". Dashboard will be open. And in the end of menu you will get phpMyAdmin link. On phpMyAdmin webpage you can practice your mysql queries.
2. By installing MySQL Workbench
MySQL workbench is a visual database design tool developed by Oracle. It works similar to phpMyAdmin.
To install MySQL workbench, please follows the below steps:
Go to the url: https://www.mysql.com/
2. Click on DOWNLOADS : https://www.mysql.com/downloads/. Scroll down to bottom of this page. You will get a link: MySQL Community (GPL) Downloads. Click on this link, will open this page.
Here you will get all the MySQL software. You have to click on "MySQL Workbench". Then you will see this page.
From this page, you can select MySQL workbench for different operating system. So, please select this software as per operating system you're using.
Once Operating system selected, please click on Download button to get this software. Once downloaded please install it and open this application. You will see this screen.
You can setup new connection by clicking new connection.
Provide the correct information:
Connection name: sharequery
Hostname: 127.0.0.1
Port: 3306
Username: root
After providing these details, click ok. Query panel will be open. Now here you can practice writing mysql queries here.